The Best of Unique Food in Denver
Posted by Brian Kinkade on Wednesday, December 20, 2017 at 11:11 AM
By Brian Kinkade / December 20, 2017
Comment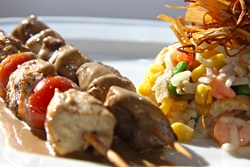 Denver is full of many unique food offerings and some of the best food in the state is found throughout the city. Here are three of the best offerings you will find in Denver.
Baba Wali Halal Cart
Known for the best New York Street Food in the city, this halal cart is found at the gas station on the corner of Josephine and Colfax. If you're from the Big Apple or you just love the food from New York City, you will love what is offered here. The cart provides gyros, burgers, fries, corn on the cob, chicken, lamb and so much more. The best part, you can get a full meal for around $6.
India's Restaurant
For over twenty years, India's Restaurant has provided some of the best food in the city. If you love curry, this is the place for it and you can find so much more than just excellent curry. They cook with a clay tandoor and a charcoal-fired oven, which provides some of the best flavors you can find. This is a great choice for the vegetarian, as well.
India's Restaurant is found at 7400 East Hampden Avenue in Denver. They provide lunch Monday through Friday from 11:30am to 2:15pm and on Saturdays from 12pm until 2:15pm. They also offer dinner Monday through Thursday from 5:30pm to 9:15pm, Friday and Saturday from 5:30pm to 9:45pm and on Sundays from 5:30pm to 8:45pm.
Patsy's
Patsy's may not offer the most unique food in the city, but they do offer the best Spaghetti and Meatball. What makes this a unique place is the fact that you wouldn't know how great they are unless you've been there. The restaurant has been in business for years and still provides some of the best food in the city.
Patsy's is found at 3651 Navajo Street. They provide both a restaurant and a pizza parlor. The dining hours are from 11am to 9pm Monday through Thursday, from 11am to 10pm on Fridays, from 5pm to 9:30pm on Saturdays and from 4pm to 8pm on Sundays.