Who Has the Best Chocolate Cake in Denver?
Posted by Brian Kinkade on Wednesday, December 20, 2017 at 11:13 AM
By Brian Kinkade / December 20, 2017
Comment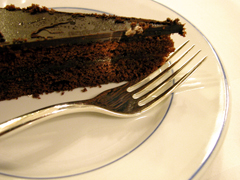 Have you ever started to crave a chocolate cake, but you don't know where to go to get that perfectly moist bite of cake? This is an issue for many and if you live in the Denver area, you have a few great spots to choose from. Here are the top spots for chocolate cake in Denver.
Mulberries Cake Shop - 2027 East Colfax Avenue, Denver
Mulberries is one of the best bakers in the area and provide a chocolate cake layered with both chocolate pudding and chocolate buttercream. They also provide a cake with a German-chocolate filling that is incredibly delicious, as well.
Crave Dessert Bar and Lounge - 891 14th Street, Denver
The name says it all and you will leave here craving more. The desserts as this bar and lounge are amazing and the chocolate cake is made with Guinness. Can you imagine how delicious this cake must be? It's also layers with peanut butter mousse and has an espresso coulis. If you love rich chocolate cake, this is the place for you.
Spruce Confections - 767 Pearl Street, Boulder
This small bakery packs a huge punch with their chocolate cake. It's made with a light chocolate and a light milk chocolate buttercream. Along with this option, chocolate lovers can enjoy a darker and richer flourless giant truffle or a fudgy brownie type of cake. These bakers will certainly take care of your chocolate craving and they even offer a gluten-free cake.
Cake Crumbs - 2216 Kearney Street, Denver
This spot is so popular, they are working on an off-site kitchen. Even with that said, you can spot by the Park Hill location on Kearney Street and get your chocolate cake fill. They have plenty of choices ranging from chocolate peanut butter to a vanilla chocolate cake. They also provide all types of other baked goods for your sweet craving.
If chocolate cake is what you're after, these are the top spots for your craving. Stop by any of the bakers for the best possible chocolate cake in Denver, Colorado.