Colorado Counties
We invite you to enjoy viewing Colorado counties and homes below, or read more about Colorado real estate.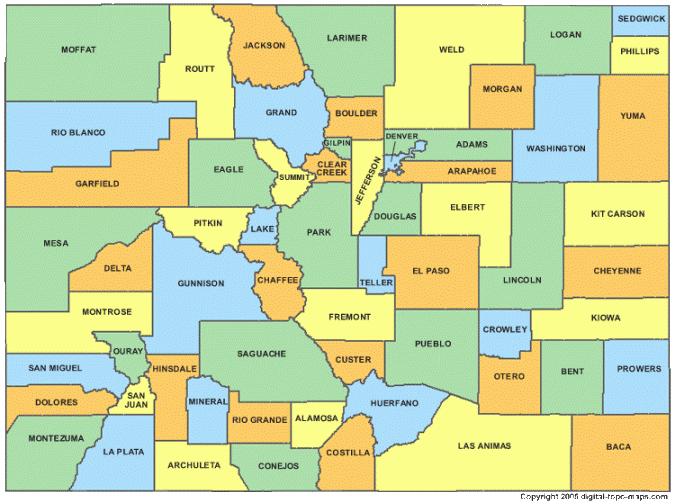 Map Courtesy of Digital Map Store
Counties in Colorado are a constitutional subdivision of state government, and their boundaries, are drawn by the General Assembly. Initially, Counties were created to carry out the programs and policies of the state itself, however, these functions have grown to encompass many policy and operational areas not taken into consideration 100 years ago, and so today, Counties can exercise only those powers specifically expressed in statute, or in the state constitution.
Under state statute, Counties are responsible for law enforcement, which includes supporting the courts system and the district attorney, as well as providing jail facilities through the sheriff.
Counties are also responsible for providing the state's social services, including administering and carrying out virtually all programs overseen by the Colorado Department of Human Services. Counties may provide health services, although their ability to do so depends largely on the resources available. Counties are responsible for road and bridge construction, maintenance, and repair. Finally, they control land use in the unincorporated areas.
Colorado Counties have a vast number of other responsibilities, ranging from weed control to restaurant inspection, virtually all of which can be traced to state legislation. In certain instances, such as liquor licensing, siting, and operation of landfills, and pest control, Counties and state government have co-authority, and responsibilities.
Counties have the power to incur debt, enter into contracts, and receive grants and gifts,
Want to purchase or sell your Colorado home, townhouse, condo, loft, acreage or horse property in the Denver Metro, Colorado Springs or Northern Colorado areas?
Call the Kinkade Team at Brokers Guild Real Estate at (303) 482-2344
. Our team of experienced real estate agents are ready and able to assist you with all your realty needs.